Scottish Highland Tours
Duncan's Statement to visitors of Scotland.
Duncans tours offers visitors a wide choice of places to visit in the north of scotland in the most flexible way which are planned to suit the visitors needs or tailored to visitors needs within the time frame agreed otherwise known as customised private tours which can be to see and do the following things to do and places of interest to see.
Anywhere in Scotland, Aberdeenshire, Morayshire, Highlands & Islands, Angus, Fife, Perthsire and Stirlingshire, Edinburgh City, Glasgow, Inverness, Aberdeen, Dundee, Stirling Perth etc.
A doric phrase a local language SAYS
HASTE Ye back to bonny scotland you bonnie wee Quines or lassies and loons afore you gang awar!
This means come back to Scotland soon you pretty girls and boys before you go way!
a little bit about

Duncan's tours of scotland.
We can take visitors to see anything of interest they may wish to see, whatever that may be.

We also offer some fixed or even mystery tours a few days a week for larger groups of 5, 6, 7 or 8 or even more for up to 40 persons if they reserve their tour well in advance. This is due to us needing to reserve a coach & driver as larger groups sharing a fixed castle or whisky tour can save money a get a cheaper tour per person. We always try and do loop tours to avoid coming back the same way so you can more from your trip!
Popular Tours
Whisky Tours at Distilleries or Whisky Shops (in Speyside Moray or Aberdeenshire)
Safari Parks In Carrbridge, Kincraig and Blair Drummond
Outdoor/Wildlife Tours
Cairngorms National Park In the middle of scotland an area of unspoilt national outstanding beauty where reindeer can be seen at close quarters
Marine Sea Life Centre at Macduff and North Queens Ferry
Huntly Falconry displays of birds of prey
Historical Tours
Ancient Standing Stones and Circles
Find Your Family History Tour scotland with assistance in genelogy investigations of your family tree. There is a shop to assist our search in king street, aberdeen city as well as looking at kirks or churches or graveyards.
Location Long Tours
City Tours such as Aberdeen, Dundee, Edinburgh, Glasglow, Inverness and Perth etc.
Coastal Tours along the Moray Firth or East and West Coast of Scotland
Highland Mountain Tours to the Isle of Skye or elsewhere in the highlands.
Lochness and Highland Tours
With so many options to choose from while planning your tour, we are sure you have plenty of questions for us!
Contact us for quotations, advice and general enquiries about our services and products using the following enquiry form and we'll reply as soon as possible.
Call us: 01224 742 444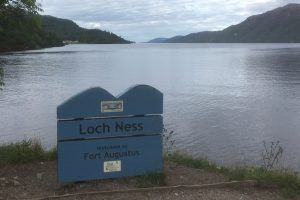 Flexibile Tours
Duncan's Tours aims to be customer friendly to suit all their choices for any type of tour to see or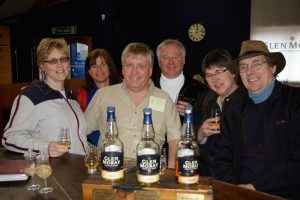 Whisky Tours
Duncan's specialist Scottish Whisky Tours will escort you to some of the most stunning whisky distilleries in Scotland! Duncan's Tours
Aberdeen City Tour
Aberdeen City Tours taking 2 to 3 or 4 hours and other City Tours in Scotland, if the Tour lasts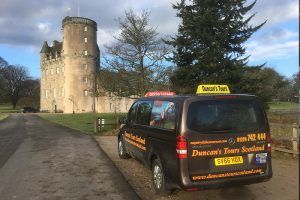 Long Tours
We will take visitors to see any part of Scotland including the Highlands and Islands over several days (as much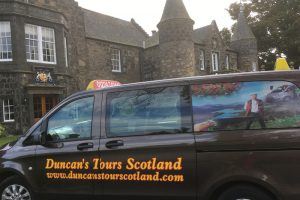 Short Tours
Shorter Duncan's Tours last 3 hour 4 hours 5 hours or 6 hours. These shorter Tours mean seeing things of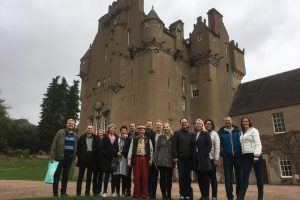 Castle Tours
Castle Tours in the north of Scotland include many castles located in Aberdeenshire, Angus Perthshire, Moray and Highlands and Islands.
Testimonials
Client Reviews
I would like to thank you for a great tour with you on Monday.It was really nice and entraining. I especially appreciate you taken us to all those beautiful fishing villages (at least it was fishing in the past:-). It was really nice that you share some family stories with us, really interesting to know real people histories instead of just some standard touristic talk. I will for sure recommend you to all my friends that will plan to go to Scotland. I also hope that we will be able to be there next year and there will be a chance to arrange some longer trips with you. Hope we were not very tiring company for you and you like we enjoyed visiting one new distillery (even if smallest in Speyside – Benromach
continue reading...
I wanted to send you a quick note to tell you thank you for taking me and Caleb to the Glen Garioch Distillery and Castle Fraser. We enjoyed speaking with you and were truly impressed by your wide range of knowledge. Once again thank you for helping to make our trip to Aberdeen more enjoyable.Be sure to give Lucy a pat on the head from us.
continue reading...
Thank you so much for the wonderful tour on March 27th. We saw so much and I am home with some amazing photographs.

continue reading...
See historical Scotland with Ducan's Tours
freedom and flexibility with expert knowledge.
Combine guided Tours with flexibility and freedom. Enjoy the best of both worlds with a flexible tour!
Scottish history stretches back an impressive 10,000 years making it one of the most sought-after sight-seeing experiences. Boasting over 20 castles located across Aberdeenshire, Perthshire, Moray, the Highlands & Islands why not immerse yourself in historic Scotland. Dependant on where you are staying some of the castles may be close to you and be seen within an 8 hour day trip.
No matter where you want to go in Scotland, Duncan's Tours aim to be customer friendly providing a personally tailored experience that is unique to you. From historical castle visits and scenic Tours to quality Tour whisky experiences, Duncan's Tours will cater for all your needs. Scotland also boasts an impressive list of Whisky Distilleries; 98 in total. We offer tailor-made Whisky Tours to four major Whisky regions.

Whatever your tipple we can help design the perfect Whisky tour.
No matter where you want to go, Duncan's Tours can offer you a completely unique and quality Tour Scottish tour.

We can help make suggestions as to what you can do during your stay. To discuss your tour plan please contact us in advance by calling us today on 01224 742 444 or you can a email us on enquiry@duntourscot.com.
Famous for its fertile valley of rivers and glens, it is home to over half of Scotland's distilleries.
With its domineering moorland landscape, Highlands Whiskies are famed for offering a smoky peaty dram with a hint of refined elegance.
Nestled just above England, the Lowlands offer a more mellow Whisky with lighter floral tones.
At the southernmost tip of the Inner Hebrides, its beaten landscapes are key to Islay's whisky. Islay's whisky is a complex combination of intense smokiness fused with peat from its natural surroundings.