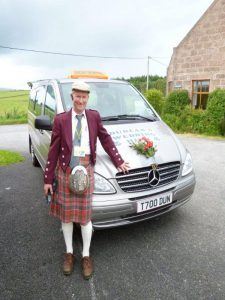 Hello and meet our fleet we operate vehicles chosen with your safety and comfort in mind.
Our vehicles can carry up to 8 passengers. Aside from its safety and reliability, this vehicle ensures that you are raised up higher than most average cars, giving you a much better view all around.
Complete with its large windows, this is the perfect tour vehicle, allowing you to fully immerse yourself in the landscape as you travel.

This vehicle is also registered as a licensed Taxi by Aberdeenshire Council. This registration insists on the highest levels of safety and road-worthiness. With two stringent MOTs each year, you can be sure that this vehicle will not let you down on your travels.